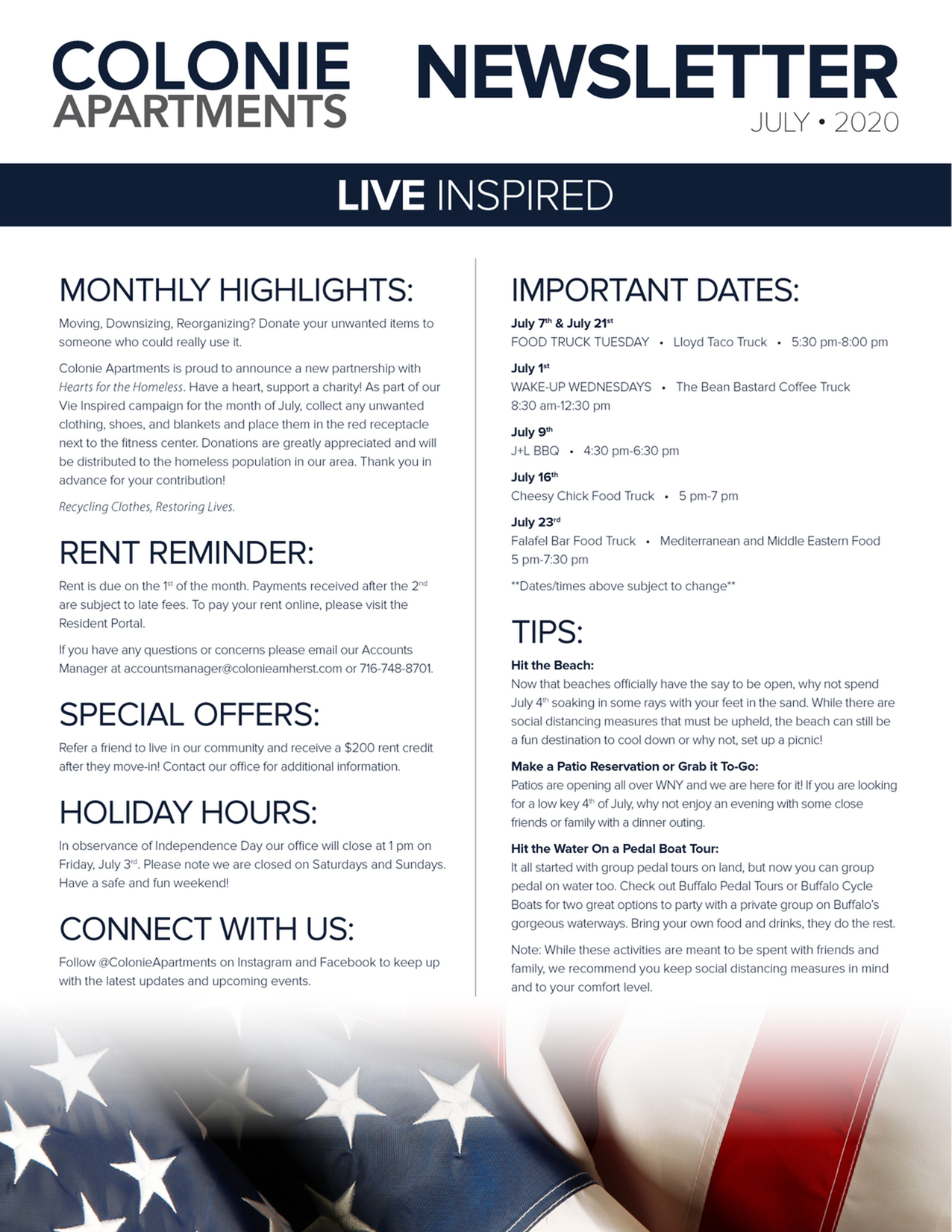 MONTHLY HIGHLIGHTS
Moving, Downsizing, Reorganizing? Donate your unwanted items to someone who could really use it.
Colonie Apartments is proud to announce a new partnership with Hearts for the Homeless. Have a heart, support a charity! As part of our Vie Inspired campaign for the month of July, collect any unwanted clothing, shoes, and blankets and place them in the red receptacle next to the fitness center. Donations are greatly appreciated and will be distributed to the homeless population in our area. Thank you in advance for your contribution!

Recycling Clothes, Restoring Lives.
RENT REMINDER
Rent is due on the 1st of the month. Payments received after the 2nd are subject to late fees. To pay your rent online, please visit the Resident Portal.
If you have any questions or concerns please email our Accounts Manager at Accountsmanager@colonieamherst.com or 716-748-8701.
SPECIAL OFFERS
Refer a friend to live in our community and receive a $200 rent credit after they move-in! Contact our office for additional information.
HOLIDAY OFFICE HOURS
In observance of Independence Day our office will close at 1 pm on Friday, July 3rd. Please note we are closed on Saturdays and Sundays. Have a safe and fun weekend!

CONNECT WITH US
Follow @ColonieApartments on Instagram and Facebook to keep up with the latest updates and upcoming events.

IMPORTANT DATES
July 7th & July 21st
FOOD TRUCK TUESDAY
Lloyd Taco Truck
5:30 pm-8:00 pm
July 1st
WAKE-UP WEDNESDAYS
The Bean Bastard Coffee Truck
8:30 am-12:30 pm
July 9th
J+L BBQ
4:30 pm-6:30 pm
July 16th
Cheesy Chick Food Truck
5 pm-7 pm
July 23rd
Falafel Bar Food Truck
Mediterranean and Middle Eastern Food
5 pm-7:30 pm
**Dates/times above subject to change**
TIPS
1. Hit the Beach
Now that beaches officially have the say to be open, why not spend July 4th soaking in some rays with your feet in the sand. While there are social distancing measures that must be upheld, the beach can still be a fun destination to cool down or why not, set up a picnic!
2. Make a Patio Reservation or Grab it To-Go
Patios are opening all over WNY and we are here for it! If you are looking for a low key 4th of July, why not enjoy an evening with some close friends or family with a dinner outing.
3. Hit the Water On a Pedal Boat Tour
It all started with group pedal tours on land, but now you can group pedal on water too. Check out Buffalo Pedal Tours or Buffalo Cycle Boats for two great options to party with a private group on Buffalo's gorgeous waterways. Bring your own food and drinks, they do the rest.
Note: While these activities are meant to be spent with friends and family, we recommend you keep social distancing measures in mind and to your comfort level.