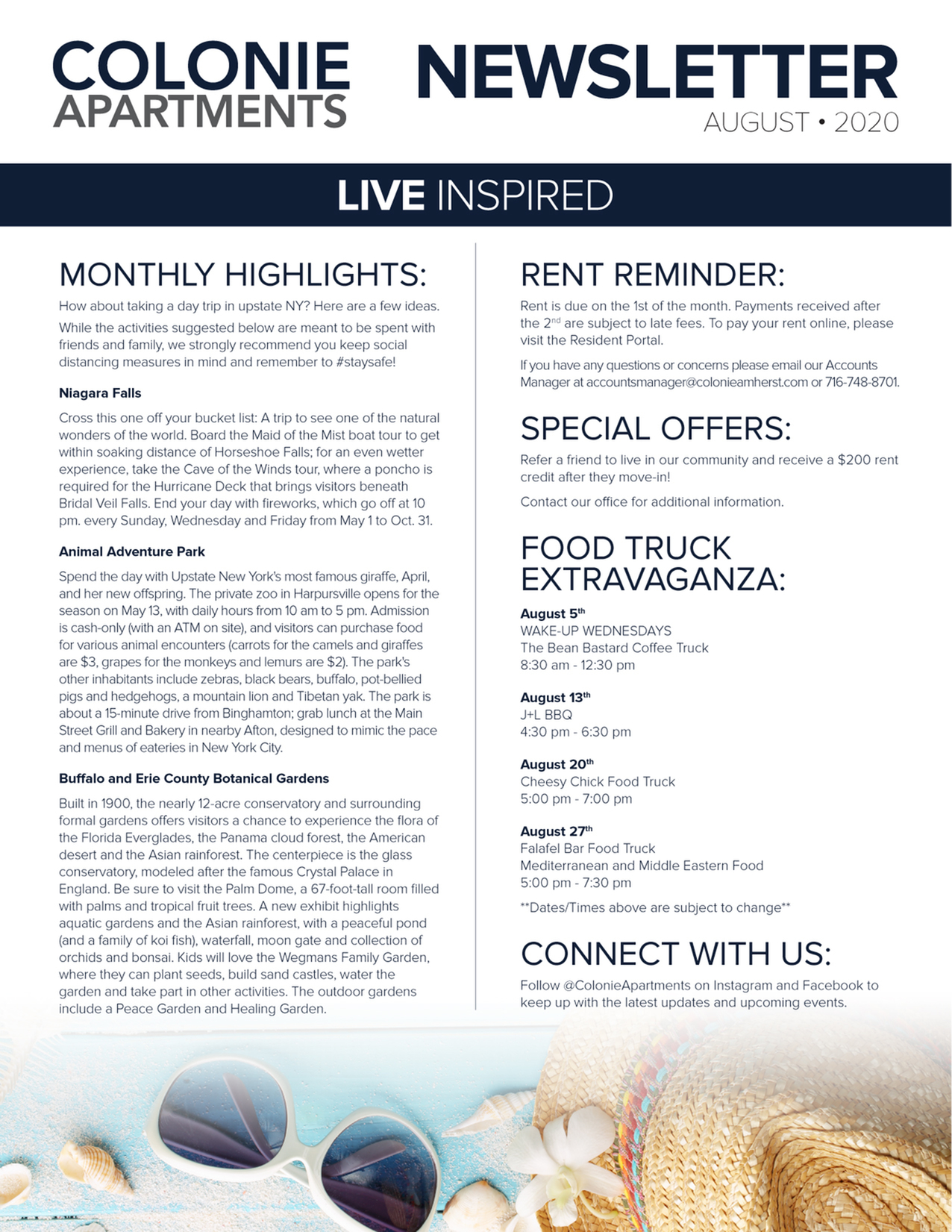 MONTHLY HIGHLIGHTS:
How about taking a day trip in upstate NY? Here are a few ideas. While the activities suggested below are meant to be spent with friends and family, we strongly recommend you keep social distancing measures in mind and remember to #staysafe!
Cross this one off your bucket list: A trip to see one of the natural wonders of the world. Board the Maid of the Mist boat tour to get within soaking distance of Horseshoe Falls; for an even wetter experience, take the Cave of the Winds tour, where a poncho is required for the Hurricane Deck that brings visitors beneath Bridal Veil Falls. End your day with fireworks, which go off at 10 pm. every Sunday, Wednesday, and Friday from May 1 to Oct 31.
Spend the day with Upstate New York's most famous giraffe, April, and her new offspring. The private zoo in Harpursville opens for the season on May 13, with daily hours from 10 am to 5 pm. Admission is cash-only (with an ATM on site), and visitors can purchase food for various animal encounters (carrots for the camels and giraffes are $3, grapes for the monkeys and lemurs are $2). The park's other inhabitants include zebras, black bears, buffalo, pot-bellied pigs and hedgehogs, a mountain lion and Tibetan yak. The park is about a 15-minute drive from Binghamton; grab lunch at the Main Street Grill and Bakery in nearby Afton, designed to mimic the pace and menus of eateries in New York City.
Buffalo and Erie County Botanical Gardens
Built in 1900, the nearly 12-acre conservatory and surrounding formal gardens offers visitors a chance to experience the flora of the Florida Everglades, the Panama cloud forest, the American desert and the Asian rainforest. The centerpiece is the glass conservatory, modeled after the famous Crystal Palace in England. Be sure to visit the Palm Dome, a 67-foot-tall room filled with palms and tropical fruit trees. A new exhibit highlights aquatic gardens and the Asian rainforest, with a peaceful pond (and a family of koi fish), waterfall, moon gate and collection of orchids and bonsai. Kids will love the Wegmans Family Garden, where they can plant seeds, build sand castles, water the garden and take part in other activities. The outdoor gardens include a Peace Garden and Healing Garden.
RENT REMINDER:
Rent is due on the 1st of the month. Payments received after the 2nd are subject to late fees. To pay your rent online, please visit the Resident Portal.
If you have any questions or concerns please email our Accounts Manager at Accountsmanager@colonieamherst.com or 716-748-8701.
SPECIAL OFFERS:
Refer a friend to live in our community and receive a $200 rent credit after they move-in! Contact our office for additional information.
FOOD TRUCK EXTRAVAGANZA:
August 5th
WAKE-UP WEDNESDAYS
The Bean Bastard Coffee Truck
8:30 am - 12:30 pm
August 13th
J+L BBQ
4:30 pm - 6:30 pm
August 20th
Cheesy Chick Food Truck
5:00 pm - 7:00 pm
August 27th
Falafel Bar Food Truck
Mediterranean and Middle Eastern Food
5:00 pm - 7:30 pm

**Dates/Times above are subject to change**
CONNECT WITH US:
Follow @ColonieApartments on Instagram and Facebook to keep up with the latest updates and upcoming events.