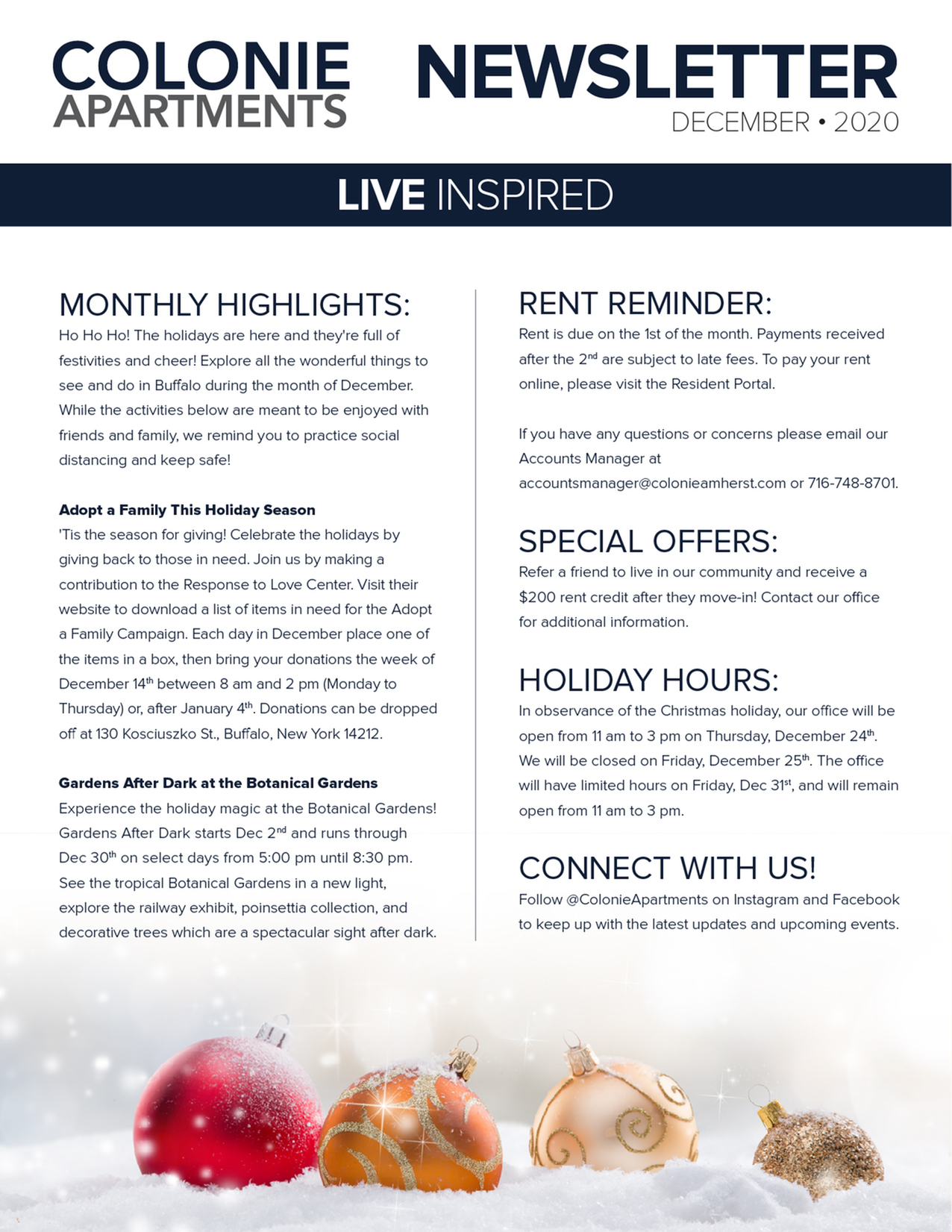 Monthly Highlights:
Ho Ho Ho! The holidays are here and they're full of festivities and cheer! Explore all the wonderful things to see and do in Buffalo during the month of December. While the activities below are meant to be enjoyed with friends and family, we remind you to practice social distancing and keep safe!

Adopt a Family This Holiday Season
'Tis the season for giving! Celebrate the holidays by giving back to those in need. Join us by making a contribution to the Response to Love Center. Visit their website to download a list of items in need for the
Adopt a Family Campaign
. Each day in December place one of the items in a box, then bring your donations the week of December 14th between 8 am and 2 pm (Monday to Thursday) or, after January 4th. Donations can be dropped off at 130 Kosciuszko St., Buffalo, New York 14212.

Gardens After Dark at the Botanical Gardens
Experience the holiday magic at the Botanical Gardens!
Gardens After Dark
starts Dec 2nd and runs through Dec 30th on select days from 5:00 pm until 8:30 pm. See the tropical Botanical Gardens in a new light, explore the railway exhibit, poinsettia collection, and decorative trees which are a spectacular sight after dark.

Rent Reminder:
Rent is due on the 1st of the month. Payments received after the 2nd are subject to late fees. To pay your rent online, please visit the Resident Portal.

If you have any questions or concerns please email our Accounts Manager at accountsmanager@colonieamherst.com or 716-748-8701.

Special Offers:
Refer a friend to live in our community and receive a $200 rent credit after they move-in! Contact our office for additional information.

Holiday Hours:
In observance of the Christmas holiday, our office will be open from 11 am to 3 pm on Thursday, December 24th. We will be closed on Friday, December 25th. The office will have limited hours on Friday, Dec 31st, and will remain open from 11 am to 3 pm.

Connect With Us!
Follow @ColonieApartments on Instagram and Facebook to keep up with the latest updates and upcoming events.