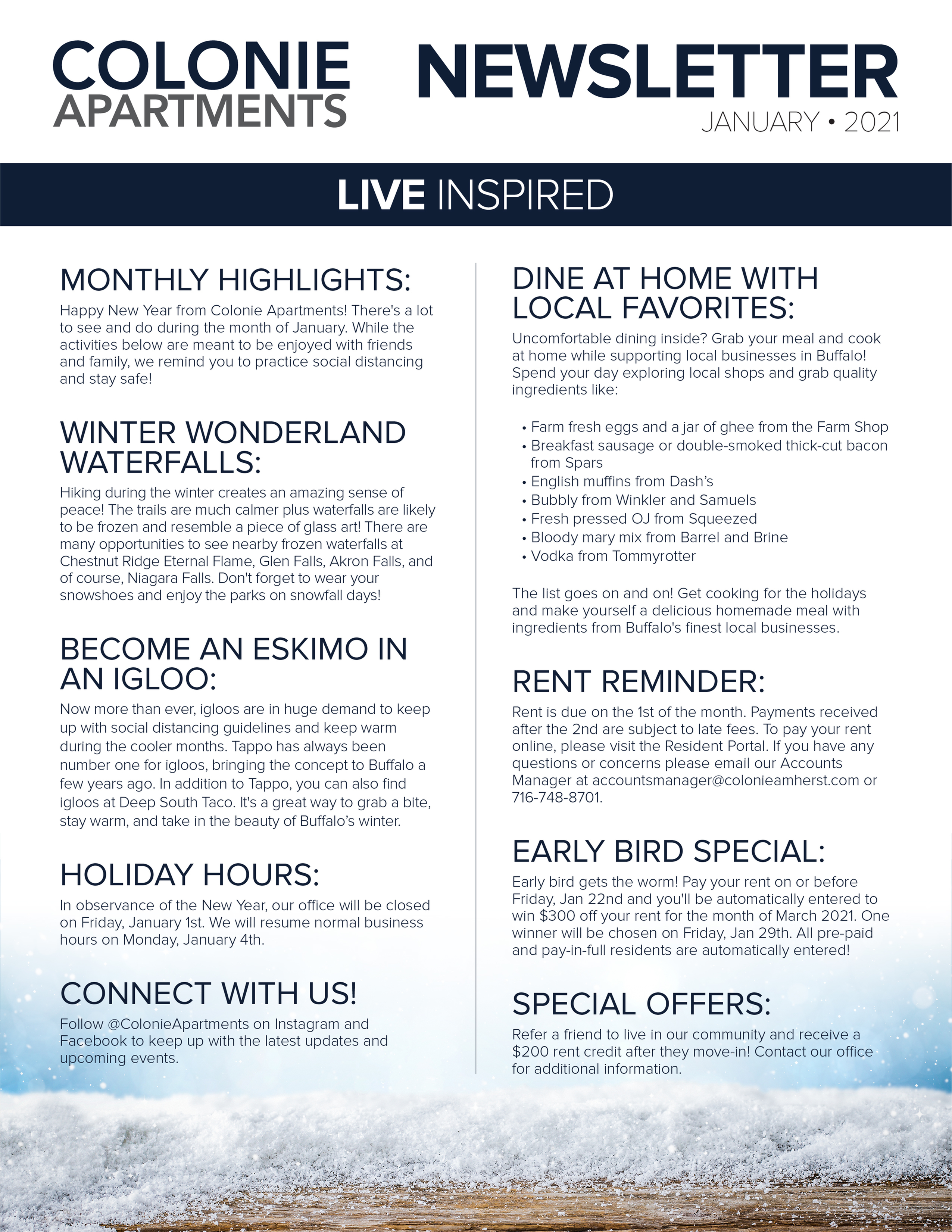 MONTHLY HIGHLIGHTS:
Happy New Year from Colonie Apartments! There's a lot to see and do during the month of January. While the activities below are meant to be enjoyed with friends and family, we remind you to practice social distancing and stay safe!
WINTER WONDERLAND WATERFALLS:
Hiking during the winter creates an amazing sense of peace! The trails are much calmer plus waterfalls are likely to be frozen and resemble a piece of glass art! There are many opportunities to see nearby frozen waterfalls at Chestnut Ridge Eternal Flame, Glen Falls, Akron Falls, and of course, Niagara Falls. Don't forget to wear your snowshoes and enjoy the parks on snowfall days!
BECOME AN ESKIMO IN AN IGLOO:
Now more than ever, igloos are in huge demand to keep up with social distancing guidelines and keep warm during the cooler months. Tappo has always been number one for igloos, bringing the concept to Buffalo a few years ago. In addition to Tappo, you can also find igloos at Deep South Taco. It's a great way to grab a bite, stay warm, and take in the beauty of Buffalo's winter.

HOLIDAY HOURS:
In observance of the New Year, our office will be closed on Friday, January 1st. We will resume normal business hours on Monday, January 4th.

CONNECT WITH US!
Follow @ColonieApartments on Instagram and Facebook to keep up with the latest updates and upcoming events.

DINE AT HOME WITH LOCAL FAVORITES:
Uncomfortable dining inside? Grab your meal and cook at home while supporting local businesses in Buffalo! Spend your day exploring local shops and grab quality ingredients like:
Farm fresh eggs and a jar of ghee from the Farm Shop

Breakfast sausage or double-smoked thick-cut bacon from Spars

English muffins from Dash's

Bubbly from

Winkler and Samuels

Fresh pressed OJ from Squeezed

Bloody mary mix from

Barrel and Brine

Vodka from

Tommyrotter
The list goes on and on! Get cooking for the holidays and make yourself a delicious homemade meal with ingredients from Buffalo's finest local businesses.
RENT REMINDER:
Rent is due on the 1st of the month. Payments received after the 2nd are subject to late fees. To pay your rent online, please visit the Resident Portal. If you have any questions or concerns please email our Accounts Manager at accountsmanager@colonieamherst.com or 716-748-8701.
EARLY BIRD SPECIAL:
Early bird gets the worm! Pay your rent on or before Friday, Jan 22nd and you'll be automatically entered to win $300 off your rent for the month of March 2021. One winner will be chosen on Friday, Jan 29th. All pre-paid and pay-in-full residents are automatically entered!
SPECIAL OFFERS:
Refer a friend to live in our community and receive a $200 rent credit after they move-in! Contact our office for additional information.