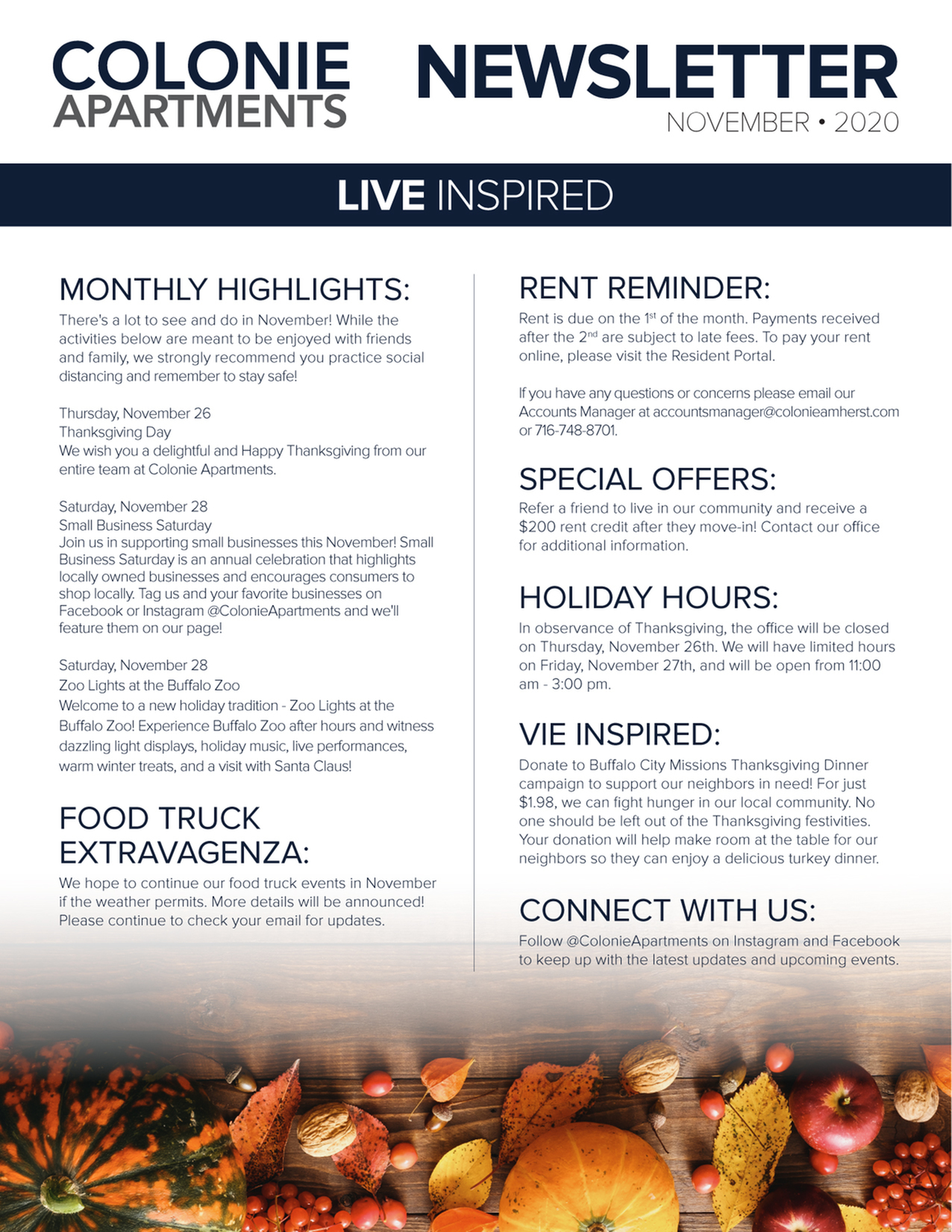 MONTHLY HIGHLIGHTS:
There's a lot to see and do in November! While the activities below are meant to be enjoyed with friends and family, we strongly recommend you practice social distancing and remember to stay safe!

Thursday, November 26
Thanksgiving Day
We wish you a delightful and Happy Thanksgiving from our entire team at Colonie Apartments.

Saturday, November 28
Small Business Saturday
Join us in supporting small businesses this November! Small Business Saturday is an annual celebration that highlights locally owned businesses and encourages consumers to shop locally. Tag us and your favorite businesses on Facebook or Instagram @ColonieApartments and we'll feature them on our page!

Saturday, November 28
Zoo Lights at the Buffalo Zoo
Welcome to a new holiday tradition - Zoo Lights at the Buffalo Zoo! Experience
Buffalo Zoo
after hours and witness dazzling light displays, holiday music, live performances, warm winter treats, and a visit with Santa Claus!

FOOD TRUCK EXTRAVAGENZA:
We hope to continue our food truck events in November if the weather permits. More details will be announced! Please continue to check your email for updates.

RENT REMINDER:
Rent is due on the 1st of the month. Payments received after the 2nd are subject to late fees. To pay your rent online, please visit the Resident Portal.

If you have any questions or concerns please email our Accounts Manager at accountsmanager@colonieamherst.com or 716-748-8701.

SPECIAL OFFERS:
Refer a friend to live in our community and receive a $200 rent credit after they move-in! Contact our office for additional information.

HOLIDAY HOURS:
In observance of Thanksgiving, the office will be closed on Thursday, November 26th. We will have limited hours on Friday, November 27th, and will be open from 11:00 am - 3:00 pm.

VIE INSPIRED:
Buffalo City Missions 2020 Thanksgiving Campaign
Support our neighbors in need. For just $1.98, we can fight hunger in our local community. No one should be left out of the Thanksgiving festivities. Your donation will help make room at the table for our neighbors so they can enjoy a delicious turkey dinner.

CONNECT WITH US:
Follow @ColonieApartments on Instagram and Facebook to keep up with the latest updates and upcoming events.