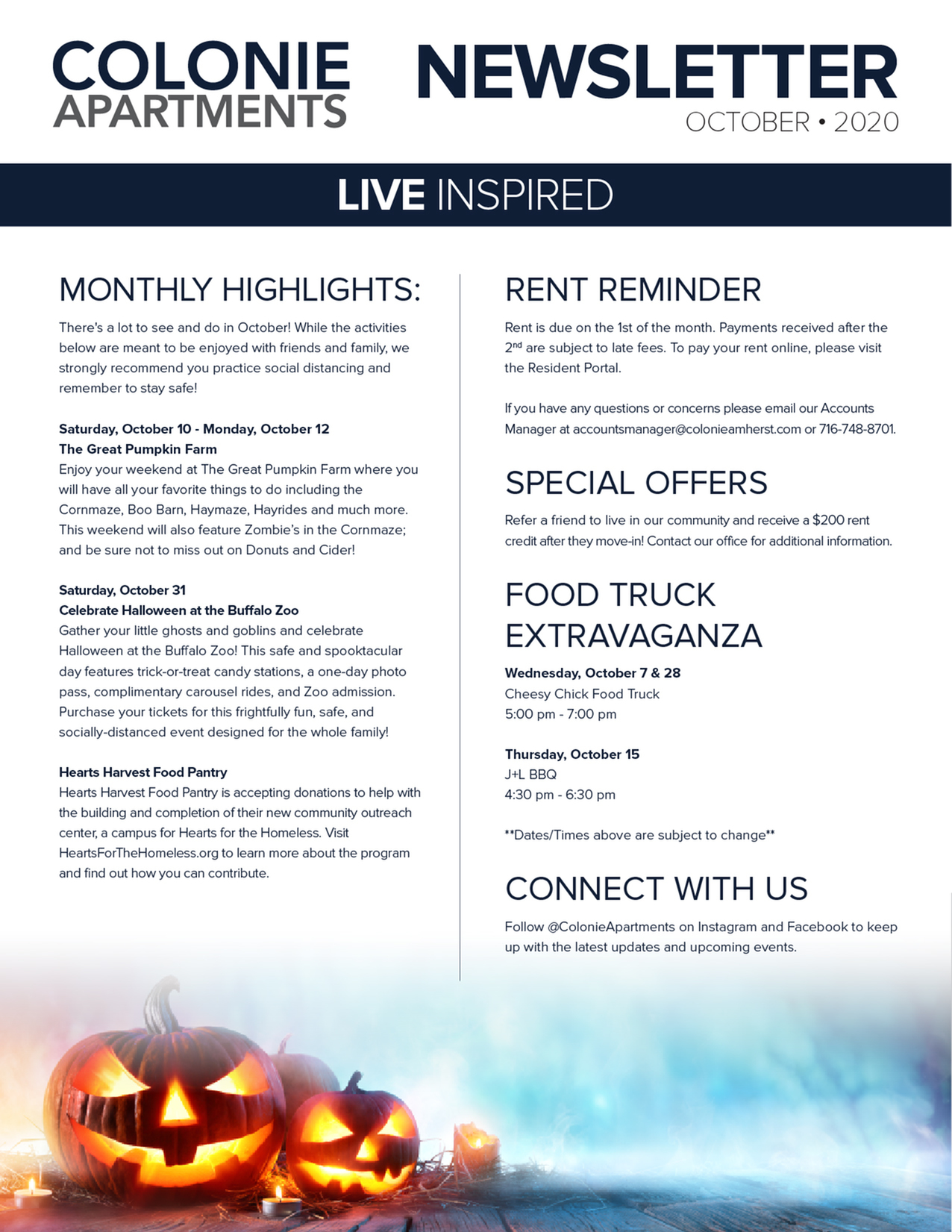 MONTHLY HIGHLIGHTS
There's a lot to see and do in October! While the activities below are meant to be enjoyed with friends and family, we strongly recommend you practice social distancing and remember to stay safe!

Saturday, October 10 - Monday, October 12
The Great Pumpkin Farm
Enjoy your weekend at The Great Pumpkin Farm where you will have all your...

Saturday, October 31
Celebrate Halloween at the Buffalo Zoo
Gather your little ghosts and goblins and celebrate Halloween at the Buffalo Zoo! This safe and spooktacular day features trick-or-treat candy stations, a one-day photo pass, complimentary carousel rides, and Zoo admission. Purchase your tickets for this frightfully fun, safe, and socially-distanced event designed for the whole family!

Hearts Harvest Food Pantry
Hearts Harvest Food Pantry
is accepting donations to help with the building and completion of their new community outreach center, a campus for Hearts for the Homeless. Visit HeartsForTheHomeless.org to learn more about the program and find out how you can contribute.

RENT REMINDER
Rent is due on the 1st of the month. Payments received after the 2nd are subject to late fees. To pay your rent online, please visit the Resident Portal.

If you have any questions or concerns, please email our Accounts Manager at accountsmanager@colonieamherst.com or 716-748-8701.

SPECIAL OFFERS
Refer a friend to live in our community and receive a $200 rent credit after they move-in! Contact our office for additional information.

FOOD TRUCK EXTRAVAGANZA
Wednesday, October 7 & 28
Cheesy Chick Food Truck
5:00 pm - 7:00 pm

Thursday, October 15
J+L BBQ
4:30 pm - 6:30 pm

**Dates/Times above are subject to change**

CONNECT WITH US
Follow @ColonieApartments on Instagram and Facebook to keep up with the latest updates and upcoming events.