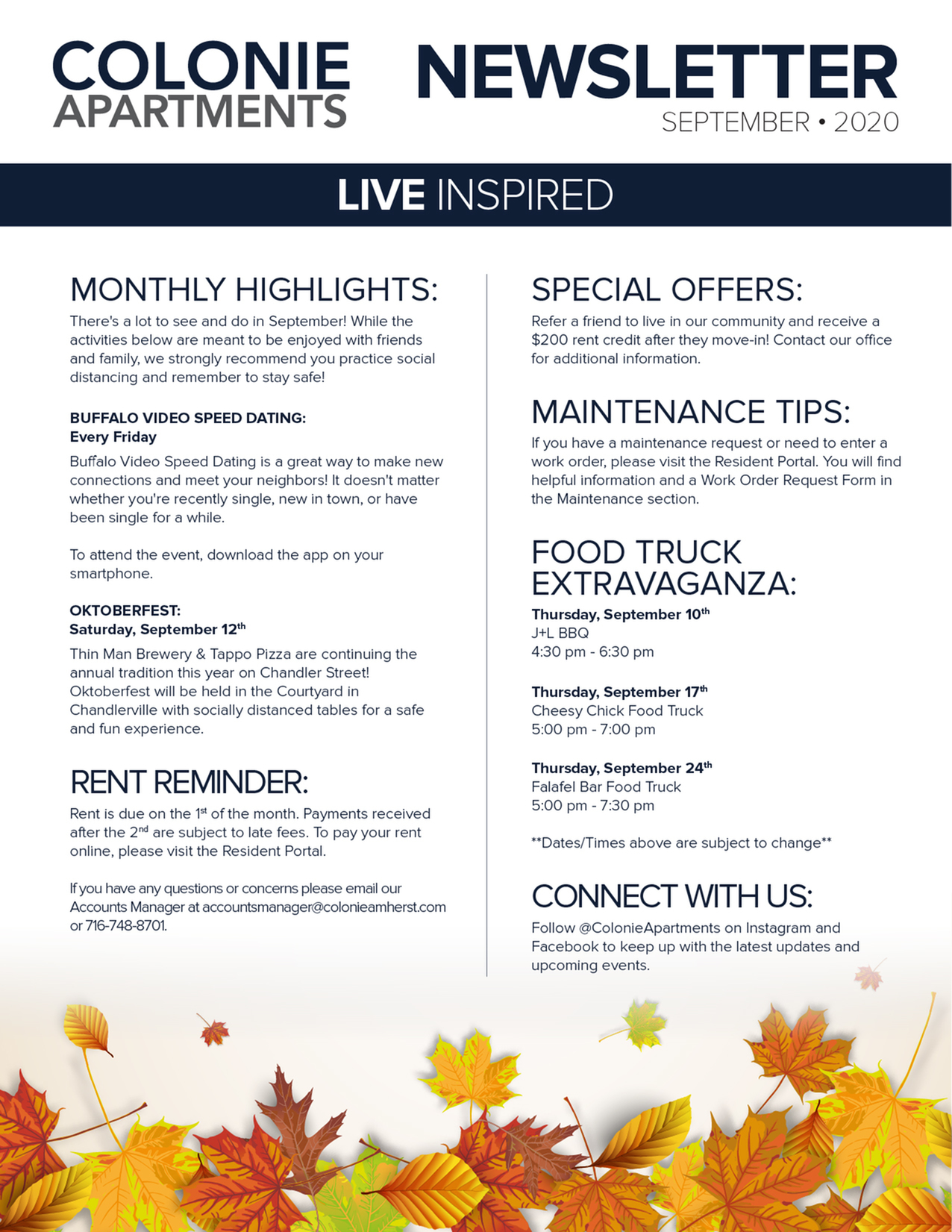 Monthly Highlights:
There's a lot to see and do in September! While the activities below are meant to be enjoyed with friends and family, we strongly recommend you practice social distancing and remember to stay safe!
Buffalo Video Speed Dating: Every Friday
Buffalo Video Speed Dating is a great way to make new connections and meet your neighbors! It doesn't matter whether you're recently single, new in town, or have been single for a while. To attend the event, download the app on your smartphone.
Oktoberfest: Saturday, September 12th
Thin Man Brewery & Tappo Pizza are continuing the annual tradition this year on Chandler Street! Oktoberfest will be held in the Courtyard in Chandlerville with socially distanced tables for a safe and fun experience.
Rent Reminder:
Rent is due on the 1st of the month. Payments received after the 2nd are subject to late fees. To pay your rent online, please visit the Resident Portal.
If you have any questions or concerns please email our Accounts Manager at accountsmanager@colonieamherst.com or 716-748-8701.
Special Offers:
Refer a friend to live in our community and receive a $200 rent credit after they move-in! Contact our office for additional information.

Maintenance Tips:
If you have a maintenance request or need to enter a work order, please visit the Resident Portal. You will find helpful information and a Work Order Request Form in the Maintenance section.

Food Truck Extravaganza:
Thursday, September 10th
J+L BBQ
4:30 pm - 6:30 pm
Thursday, September 17th
Cheesy Chick Food Truck
5:00 pm - 7:00 pm
Thursday, September 24th
Falafel Bar Food Truck
5:00 pm - 7:30 pm

**Dates/Times above are subject to change**
Connect With Us!
Follow @ColonieApartments on Instagram and Facebook to keep up with the latest updates and upcoming events.